2023-2024
* No Bag Day – 23/09/2023
Activities- Eng Noun- activity, Roleplay on Human digestive system, Math-Activity on tables
* Grandparents Day was Celebrated on 16/09/2023. Click for Photo Gallery
* Medical Camp was conducted in the school on 16/09/2023. Click for Photo Gallery
* KLU Projects Expo visit by Class XI students on 15/09/2023.
On the account Engineers Day, Projects Expo was conducted by KL University. Our student were given an opportunity for visit the Expo. Students had the chance to know about IoT device and how they work in live. The projects were based on Voice recognition, Machine Learning, Deep Learning and Computer Vision. Few of the projects were: Turning on the lights through voice recognition, Flame Detection, Key Pad Security Lock, Watering Plants based on soil humidity, Alarm clock, Time Stop, Smart home projects, Street Lights control, Line Follower, Automatic railway gate, Automated Toll Gate, Mini Escalator and few gaming projects. Click for Photo Gallery
* Field Trip of Class IX to Amravathi – 15/09/2023.
Nearly 100 students of Class IX were taken on a trip to Amaravathi in three buses on 15th September, 2023 under the aegis of Yuva Tourism Club. Students visited Amareswara Temple on the banks of River Krishna, Dhyana Buddha Statue, Monolithic Undavalli Caves

* Hindi Diwas – 14/09/2023.
KCP Siddhartha Adarsha Residential Public School celebrated Hindi Day on Thursday. Mrs. M. Jayalakshmi, Head of Hindi Department, Parvataneni Brahmaiah Siddhartha Degree College, was the chief guest of the program and addressed the students and praised the uniqueness of Hindi.On this occasion, cultural programs performed by the students entertained the guests. Convener of the school Mrs. V. Sasikala, Principal Mr. Manoj Karmakar Vice Principal Sai Krishna, Mrs. Jayalakshmi, other teachers and parents of students participated in this program.
Click for Photo Gallery
* Anemia Awareness Program was on conducted on 09/09/2023.
A session on "Anaemia" has organised by the school to the girl students of classes VIII-XII on Sept 9th,2023. Dr. Jasmine Sultana, Specialisation in Immuno hematology and blood transfusion, member of Indian Society of Blood Transfusion and immune haematology has addressed the female gathering. She gave a brief introduction on the causes, symptoms, types and preventive measures of Anaemia. This was followed by an interaction session highlighting the difference between a girl and a woman. She also focused on the women rights, equity, equality and about the history of Womens' Day. The students had an informal discussion with her and clarified their doubts.

* Dental Camp.- 09/09/2023
A dental camp was organized by a team of 15 medicos of Dr.Pinnamaneni Siddhartha Institute of Medical Sciences, Chinna Avutapalli headed by Dr.K.Ravi Chandra in our campus on Sept 9th,2023. The medicos examined the teeth, gums of all the children and gave needful suggestions on Oral Health and disease Prevention.
* Prizes won by our students in competitions conducted by Swetcha Gora eye Bank. Click for Photo Gallery
* Teachers Day Celebrations & Magic Show-05/09/2023.
The chief guest on the occasion was Dr. M.C.Das, a leading academician of Vijayawada. He shared that a teacher prepares students not only for examinations but also for life and society. He has his assets (students)all over the world. Smt. Sasikala, School convenor, in her address shared that teachers always aim for the holistic development of the child. Teacher is the root of all professions. School principal, Sri. Manoj Karmakar, applauded the teachers as the architects of modern education. The students whole-heartedly presented a variety of cultural programmes to show their reverence to the teachers. They honoured the teachers with good gifts followed by a delicious lunch.Click for Teachers day Gallery
Click for Magic show Gallery
* Inter House Oration Competition. Click for Photo Gallery
* No bag day for Classes IV & V-02/09/2023.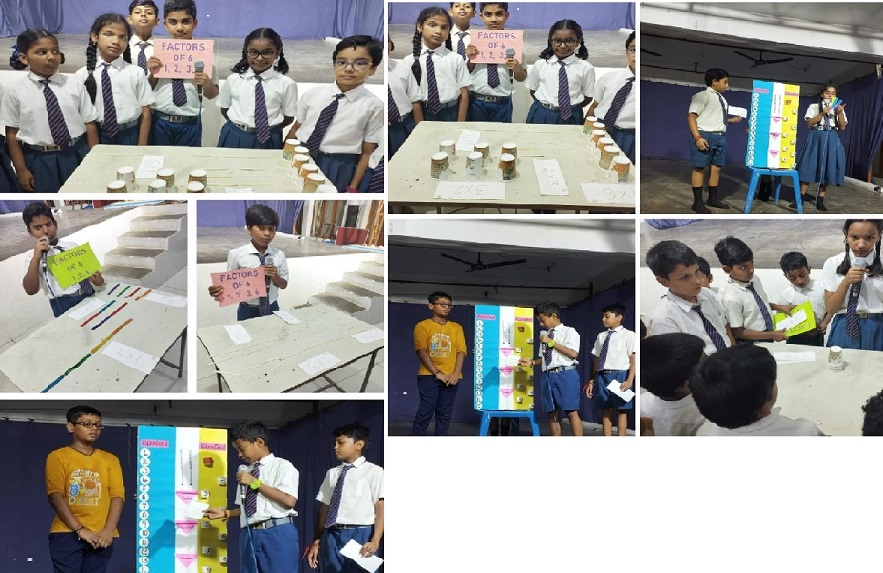 * Raksha Bandhan Celebration – 30/08/2023.
* Telugu Bhasha Dinotsavam & National Sports Day-29/08/2023. Telugu Bhasha Dinotsavam Gallery
Click for National Sports Day Gallery
*Our students Got 3rd prize, In Telugu literary Quiz competition at PB Siddhartha Degree college – 27/08/2023.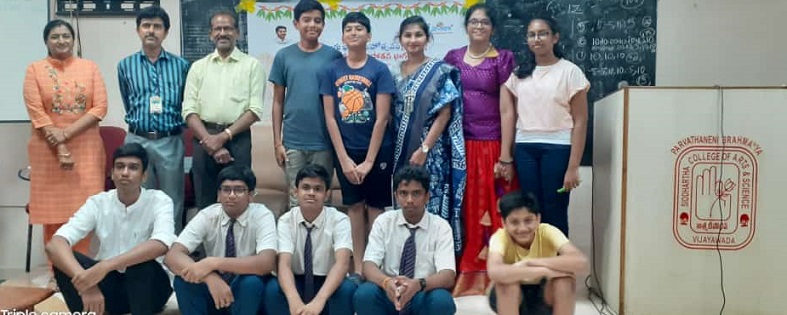 * NCC Activity – 26/08/2023.

* Inter House Street Play Competition – 26/08/2023. Click for Photo Gallery
* Science Day
The school has organized a science exhibition on August 19th,2023, where the students of all the classes involved. The students prepared around 110 projects with a short notice for their preparation. The school invited Mr.D.Rajeswara Rao, HOD of Computer science & Engineering Dept., VRS Engineering College, Vijayawada as the chief guest. Click for Photo Gallery
* Inter House Dance Competition -15/08/2023. Click for Photo Gallery
* Independence Day -15/08/2023. Click for Photo Gallery
* Visit to Crop Fields by Classes IV & V on 13/08/2023.

* No bag day for Classes IV & V-12/08/2023.

* On 11/08/2023 Dr. Ravi Kumar Kopparapu is an Astro Physicist and planetary scientist at NASA Goddard in Washington DC. He is known for his research on the habitability of exo-planets and the search for extra-terrestrial life.
Dr.K.Ravi Kumar has published numerous scientific papers on exoplanet atmospheres, climate modelling and the search for life on other planets. He has received several awards and honours for his research including the NASA Exceptional Scientific Achievement Medal
Click for Photo Gallery
* A VISIT TO SPECTRA FOODS AND BEVERAGES PRIVATE LIMITED TADIGADAPA, VIJAYAWADA
KCP Adarsh Residential Public School offered a thrilling opportunity to all the students of class IX for an Industrial visit to Spectra Foods & Beverages Pvt Ltd. at Tadigadapa,Vijayawada on 12th August 2023.
SFBPL was a franchisee for Kwality(Mumbai) and later entered into contract with HUL to manufacture and supply ice creams and it was taken over by HUL in 1995.
* Mrs. Maganti Vani
Mrs. Vani visited our school on 9th Aug, 2023. She is currently a faculty in English in the schools of UK and Scotland for more than a decade. Her topic of presentation was "Best Practices in the Schools of UK".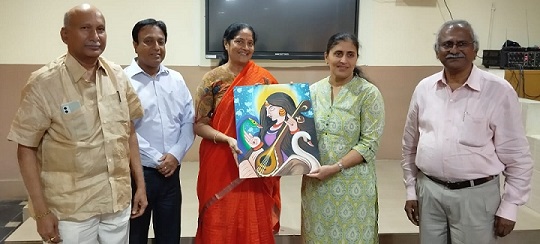 *Inauguration of "Yuva – Tourism Club"
The school has initiated and inaugurated "Yuva-Tourism Club" in our campus on August 8th, 2023 with the strategic objective of creating interest, awareness and a sense of responsibility towards our country's natural and cultural heritage / tourism amongst children and youth.Mr.M.Raghavendra Rao was nominated as Club Co-ordinator and Mas.Revanth Roy Chollan, Mas.N.Sashank were nominated as the Student Club Secretaries.
Mr.Rabi Ratna Senapathi, Nodal officer of India tourism, Mr.Chetan Jaffer, Assistant manager of India Tourism along with school Convenor Smt.V.Sasikala and School Principal Mr.Manoj Karmakar took part in the ceremony and addressed the gathering on the activities of Tourim Club.
* Freshre's Day-27/07/2023. Click for Photo Gallery
* Orientation session on Pre-SAT & SAT for the Parents and students by Mr.JVK.Murthy-23/07/2023
* No Bag Day for Classes IV &V-22/07/2023

* Puneet Sagar Abhiyan NCC(21/07/2023): Clean campus and usage of paper bags instead of polythene bags.
* Inter House Stand Up Comedy Competition – 21/07/2023.
* Investiture ceremony & School Raising Daywas conducted on 15/07/2023. Our Chief guest for the occasion was Mr SV Krishna Reddy CEO of AP Inland Waterways. Click for Photo Gallery
* Inter House Singing Competition – 08/07/2023. Click for Photo Gallery
* No Bag Day for Classes IV &V-01/07/2023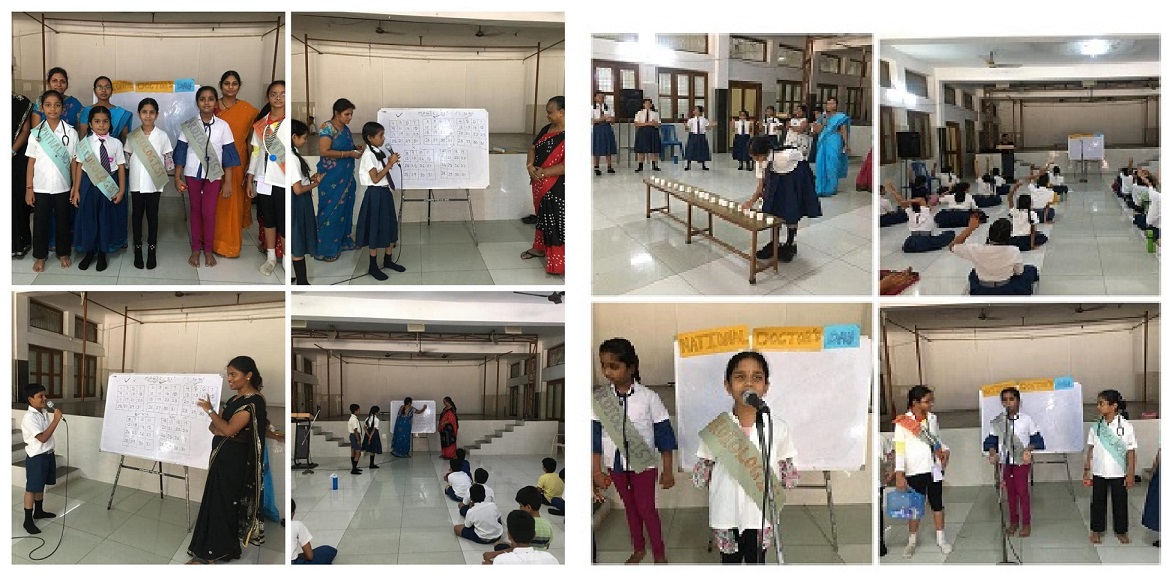 * Inter House Shloka Chanting Competition was conducted on 26/06/2023. Click for Photo Gallery
* Prizes Won at Competitions conducted by Iscon Temple
Overall championship-Our school Secured II position
1.Juniors category story telling III place 2. Sub-Juniors Group singing -I place
3. Juniors Group singing – II place 4. Juniors Group singing III place
* AI – Robotic Lab Inauguration
To maintain pace with the fast moving technological world, a sophisticated AI Robotic Lab was inaugurated in the school on 23rd June, 2023. The Chief Guest for the occasion was Sri. Harsha Vardhan, CEO, BOTCLUB, Vijayawada. Speaking on the occasion, he shared that the present generation should be updated and equipped with all the advancement happening in the present scenario. The students should get the chance of 'hands-on-experience'.
School Convenor Smt. Veerapaneni Sasikala, in the inaugural session shared that today AI is taking a lead role in the field of medicine, logistics, policing signaling etc. Every minute area is under surveillance and things are discharged most effectively. School Principal Sri. Manoj Karmakar, shared that the students of all the classes should make proper and effective use of the robotic kits available and be a part of producing mini robots.
Click for Photo Gallery
* International Yoga Day-21/06/2023
International Yoga Day was celebrated in the school campus in the early hours of 21st June, 2023. The day was organized by both the Physical Department and NCC Wing of the school. Around 200 students actively participated in the programme. They performed a number of yoga postures under the instructions of the NCC Officer, Mr.L.Hari Babu. The whole school playground became vibrant with the yogic exercises. School Principal Sri. Manoj Karmakar in his address brought out the significance of doing yoga on a regular basis.

* Enrichment Programme – 2023
On 9th June, 2023, the resource persons were Dr. S.R.Parimi, Founder, Vikas Vidya Vanam School, Poranki. His topic was "Challenges in Modern Education". And Dr. Tarun Kakani, CEO, A.P.Boating Club, Vijayawada for the morning session. Mr. Tarun dealt on 'Internet of Things-IOT' and 'Artificial Intelligence'. In the after-noon session, Mrs. Th. Neelima, HOD, English, Atkinson Sr.Sec.School, Vijayawada took an interesting topic "Teaching Grammar through Games".
On 10th June, 2023, the session was taken up by Dr.Kalyani, Professor, V.R.Siddhartha Engineering College, Vijayawada. She focused in detail the
theoretical part of AI and its application in daily life. In the afternoon session, Mr. Murthy, Founder, INVICTA enlightened the staff on the 'Strategies of Effective Communication'.
On day three, 12th June, 2023, the distinguished resource persons were Dr.Mythili, Dr. Shikha Takkar and Dr.Mizaj, Associate/Assistant Professors of Mahindra University, Hyderabad. And the topics dealt at length throughout the day were 'Leading Transformation in Schools and Educational Innovations, Pedagogies and Learning Outcomes, Life Skills – Listening and Empathy'. The day concluded by presentations from the teachers.
On the concluding day, 13th June, 2023, the resource person was Mrs.Toral Shah, Principal of Domnics Group of Educational Institutions, Hyderabad.
She is a New Age Educator , Founder at Drishya , Home schooler , Children's Author and a Storyteller too. She dealt on the topic 'Teachers as counsellors', and 'Ethics & Integrity'.
* CBSE : CAPACITY BUILDING PROGRAMME ON VALUES EDUCATION
Value Education is a vital aspect of student's overall development and teachers play a significant role in instilling moral and ethical values.A workshop on 'Values Education' was conducted in KCP Siddhartha Adarsh Residential Public School under the supervision of the Venue Director Sri Manoj Karmakar, the Principal of the School on 03.06.2023 from 9:00 AM to 5:00 PM under the guidance of Centre of Excellence, Chennai & Vijayawada Regions, CBSE, Chennai. 61 Teachers from 4 different CBSE schools in Vijayawada and Guntur Cities participated in the training programme.
* AKARSH CHITTNENI AT NASA HERC – ROVER CHALLENGE COMPETITION – 2023
NASA Human Exploration Rover Challenge (HERC), took place in the month of April 2023 in the U.S. Space & Rocket Centre in Huntsville, Alabama. The competition featured 61 Teams from 30 Countries around the world and included 45 Colleges and Universities and 16 High Schools.Out of the 6 Members in the team One Member, Akarsh Chittneni, a student of Class – X, from KCP Siddhartha Adarsh Residential Public School, Kanuru, Vijayawada was the Technical Lead of the NASA HERC Rover Challenge – 2023 team.
* A workshop was organized on "The Importance of Media and Communication in the 21st Century
A workshop was organized on "The Importance of Media and Communication in the 21st Century" by "Radio Mirchi in collaboration with Times of India" on 26th April, 2023 in Radio Mirchi office. Mas.N.David Azaniah of class XII and Mas.Y Praveen of class X took part in this workshop.
* Workshop on TATA Class edge
A workshop on the effective implementation of TATA edge classes was conducted by Mr.K.Deepak Venkata Ratnam, Academic Head of TATA class edge – Andhra Pradesh on 24th, April, 2023.
*A workshop on "Model Rocket Launching" was organized in the school campus on 20th April, 2023. The team from "Integrity –Aero Sports", Vijayawada organized this workshop.


* Inter House Extempore Competition was conducted on 18/04/2023.